OCTANE LATERAL LX 8000 ELLIPTICAL
Add new dimension and excitement to your cardio floor with the LateralX lateral elliptical. This advanced cardio machine delivers functional challenges, more muscle demands and high caloric burn – all in one space-efficient design.
Adjustable side-to-side & stepping motion
MultiGrip and Converging Path handlebars
Space-efficient design
Advanced programs
Heavy-Duty Quality 
All of our commercial fitness equipment is built with exceptional durability for rigorous use.
Product Design 
Our lateral elliptical showcase unique modalities and unmatched features for a great workout.
Performance Driven 
All of our cardio machines are specially designed to help motivate exercisers and generate results.
CONSOLE OPTIONS
We offer two options for the LateralX lateral elliptical – Smart & Standard.

INCREASE CALORIE BURN
When using a lateral elliptical, research shows a 27% increase in caloric expenditure going from lateral width 1 to lateral width 10, and a 30% increase in outer and inner thigh work over traditional ellipticals. For additional variety, a stepping motion can be used and alternated with lateral movements for recovery or to incorporate beneficial cross training. Exercisers are free to customize their motion and target different muscle groups at any time throughout workouts.
*Study conducted by Minnesota State University Mankato going from lateral width 1 to lateral width 10.
EXPLORE FEATURES
Advanced Programs
With motivating programmed Workout Boosters on the LateralX, users can choose from X-Mode, QuadPower, and ThighToner. Using Octane's trademarked 30:30 Interval and MMA workouts users will boost motivation and improve conditioning.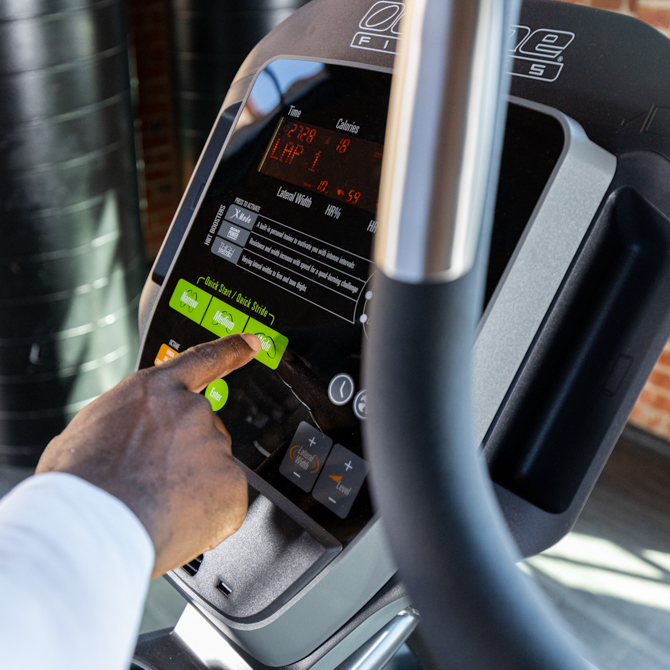 Move in Multiple Dimensions With The LateralX
The LateralX lateral elliptical moves in three dimensions with adjustable lateral motion – level 1 narrow, level 5 medium and level 10 wide. This innovative cardio machine also features advanced HIIT programs and workout boosters to help exercisers get the most out of their sweat session. Each machine comes with a Standard Console or you can upgrade to the Smart Console for an enhanced exercise experience.
| Feature | Specifics |
| --- | --- |
| Max User Weight | 400 lbs (181 kg) |
| Footprint (WxL) | 42″ x 63″ (106 cm x 160 cm) |
| Product Weight | 388 lbs (176 kg) |